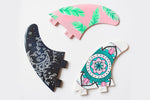 We've all got those plain old stock fins knocking around, that look a bit dull when put in our surfboards but fear not surfer girls, we've teamed up with the amazing ocean inspired artist that is Becky Starsmore to show you how you can turn your dull boring fins in to fresh works of art!
To up-cycle your fins you will need:

• Set of fins
• Fine sandpaper
• Spray paint
• Posca Paint pens
• Pencil
• Picture frame for wall art, or clear acrylic spray lacquer to use them in the sea
Step one
Wearing a face mask, lightly sand your fins with a fine grade sandpaper and wipe with a dry microfibre cloth.  This will ensure fins are clean, and will give a slightly rough surface for the paint to stick to.
Step Two
Spray paint your fins with your chosen base colour.  Use a spray paint suitable for plastics, and build up thin coats allowing each layer to dry until you have a good colour base.  Its best to do this in the garden to give good ventilation and avoid ruining your furniture.
Step Three
Lightly sketch out your design in pencil.  For an easy mandala design, use a compass to draw a series of circles, then cut out flower petal shapes from folded paper, and use as them a stencil to build up a symmetrical mandala design.
Step Four
Colour your design using paint pens, allowing each section to dry before going in with a new colour.
Step Five
You can either mount your finished fins in a frame, or seal with a few coats of clear acrylic spray lacquer and put them back on your board.  The lacquer will ensure your design stays put in the surf. 

Becky Starsmore @beckystarsmore on Instagram